Better understanding compostable packaging in Australia in 2021
We use 5.4 tonnes of packaging per year and only 0.1% is compostable packaging in Australia. (Source: APCO and Packaging News)
Did you know that both commercial and home compostable products are available on the market? Home compostable products are less widely known while commercially compostable products are more popular on the market. Let's have a look at the difference: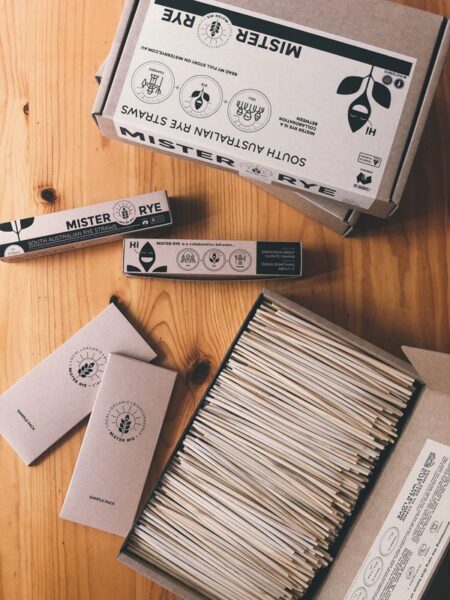 Home compostable products break down by themselves, leaving no trace, in less than 4 months in a home compost system or garden. In a dedicated composting facility, it takes as little as 6 weeks according to AORA (Austrlalian Organics Recycling Association).
Home compostable products can be transformed products that have a home compostable certification, just like the ones we source and select at Compostable Alternatives.
They can also be raw products like plants, food waste or natural ingredients with no added materials or transformation. A good example is Mister RYE Australian rye straws, by-product of the local cereal rye agriculture.
Commercially compostable products break down leaving no trace only when placed in a dedicated composting facility, using intense heat to help microbes break down. According to the Australian Bioplastics Association, a product is required to disintegrate after 12 weeks and completely biodegrade after 6 months.   
Commercially compostable products are made of bio-based plastic. In food packaging it often refers to PLA (polylactic acids) extracted from biomass (plants). 
These products have become more and more popular in the packaging space. 
You can now easily buy compostable coffee cups, clear cups, straws, cling wrap, or food plates and containers from many different packaging companies. 
On the product itself, it often says things like "made from plant, not oil", "100% compostable" or "I am not a plastic cup". For more details about commercially compostable products, read this article "Commercial vs Home compostable packaging in Australia: One is still a source of pollution."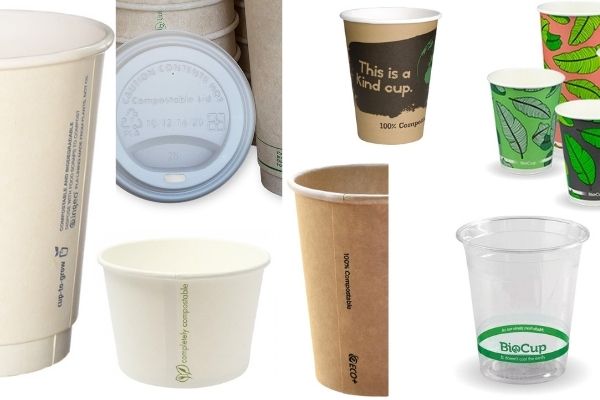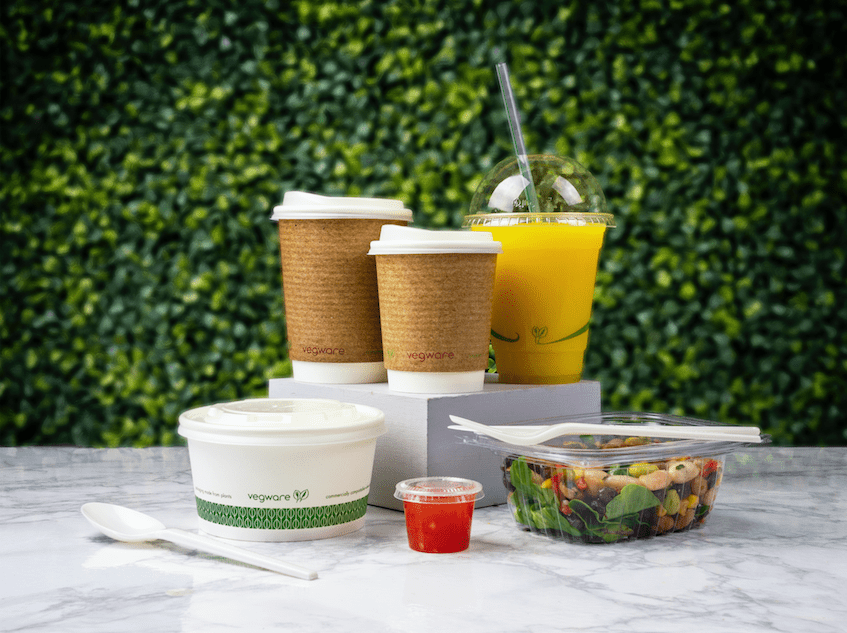 Composting certification for transformed VS raw products
For raw products, such as natural plant material with no transformation, no composting certifications exist to date. This is a grey area in the market. That is why Mister RYE cannot certify their Australian rye straws that are simply the stem part of the rye plant for example. 
For transformed products, two certifications exist that ensure a product is home compostable, commercially compostable, or both. 
This is the only way for you, your staff and your consumers to distinguish the nature of the material and understand where to dispose of it. 
Check out how to recognize and apply for certifications: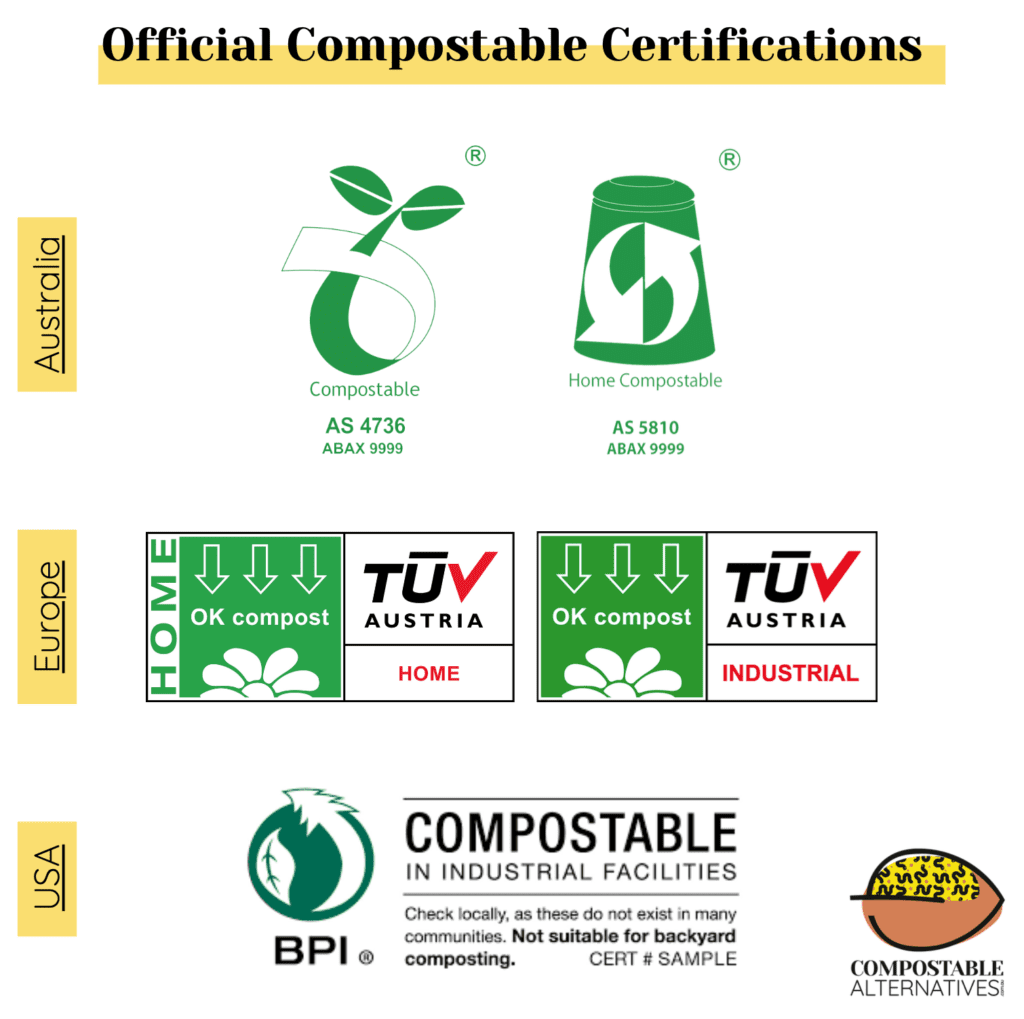 Where to dispose of these two types of compostable products?
Products certified commercially compostable need to go in the organic green lid bin, along with food and organic green waste that then goes to a composting facility to become compost. 
If not, they can be a danger to our environment and a source of contamination to other waste streams. 
The trouble is that it can be difficult to do the right thing – not every state or region even has a commercial composting facility, making it virtually impossible to dispose of these products safely. 
Unlike the kerbside recycling collection that 91% of the Australian population has access to (the popular yellow bin!), the 2018 report on Australia's Municipal Recycling Infrastructure Capacity highlights that "58% of Australian households have no access to kerbside collection of organic material". 
The map below shows in dark green the few places in which compostable packaging in Australia can be commercially composted. But it's even more complex than that, as some councils do not accept food packaging as part of what is accepted in the Organic Green waste stream.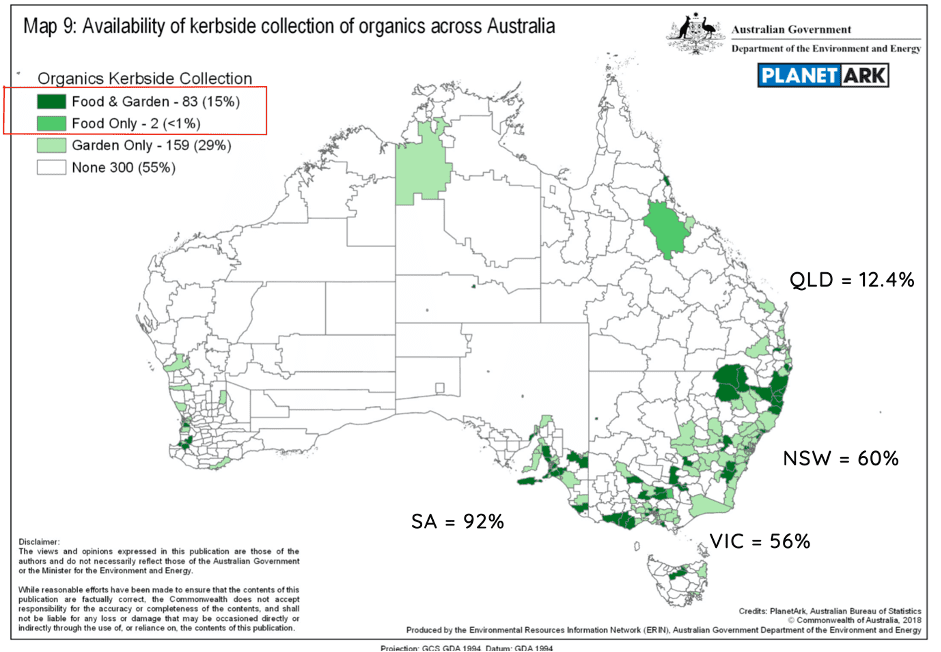 About 150 composting facilities are available in Australia. If you want to check if there is one in your area, go to https://www.aora.org.au/find-a-composter
On the other hand, home compostable products can be placed in your own home compost with your food and garden waste, in your garden, and of course in your organic green bin. They will break down anywhere there is micro-organisms and oxygen including in landfill, depending on the conditions as all landfills are different.
Our home compostable product range
The packaging industry and marketing spin
Unfortunately, not many brands and products provide detailed information on their compostability. 
A lot of products are not certified or do not mention it on their packaging.
You will often see the word "compostable" but rarely "home compostable" or "commercially compostable" along with instructions on how to dispose of it properly. 
This shows a big gap in the regulations and a lot of confusion for customers. 
I have noticed that, to acquire more customers, some brands are not afraid to include "compostable" on their packaging as a marketing claim, without providing any information on how their product is actually compostable.
These strategies, misinformation or lack of transparency can sometimes be seen as greenwashing. 
Marketing strategies tend to highlight compostability to make you feel good about doing the right thing. 
This can be very dangerous for our environment. 
Without a proper explanation or official certifications, this is only creating more confusion for hospitality business owners like yourself, but also for your consumers who might not know where to dispose of them correctly. 
Commercially compostable products that unintentionally enter the environment or end up in the wrong waste stream behave in exactly the same way as traditional plastic products. 
They can decompose into micro-sized pieces and become a danger to the marine life and the ecosystem. You can read more about this topic in my other article Are commercially compostable packaging in Australia a new source of pollution? 
In short, the word compostable by itself, with no explanation or certification, does not mean anything. 
We live in a world where brands do not always have the best intentions for our environment and where marketing, especially on packaging, plays a big role. 
To lower your impact on the environment, always think through the whole supply chain, from production to disposal, beyond what you can read on the packaging. 
Most importantly always do your own research.
Marion Vigot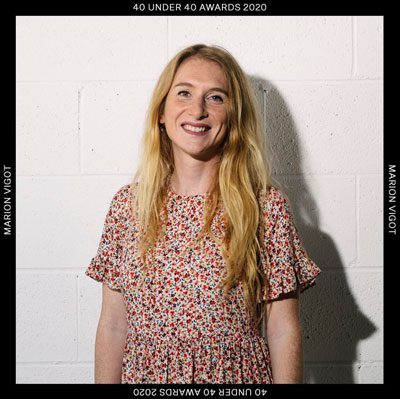 About the author:
Marion is a French entrepreneur, profoundly interested in the composting industry. Her words are her own thoughts and come from her research and learning. Although she quotes and sources the information she shares, Marion is not a scientist or a researcher and her opinions should not be understood as a scientific truth.
Through her findings and experience in the industry, she is attempting to support hospitality businesses and producers in their search of alternative choices to single-use and other types of plastic packaging. You should always do your own research to best inform yourself.
Did you find this article useful? Share this article with your community
Check our latest articles: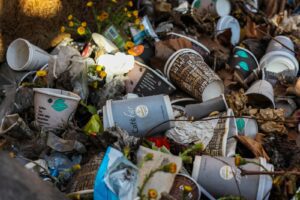 Coffee Takeaway Cups: Are They Compostable? An 2021 Update for Australia 2.7 million Australians love their daily takeaway morning coffee. If you are one of them and, like me, are wondering if these takeaway coffee cup are compostable, bare with me and let's find out in the article below! Meaning of compostable Compostable means that a
Read More »