Certified Home Compostable Coffee Cup & Lid! Best Seller in 2022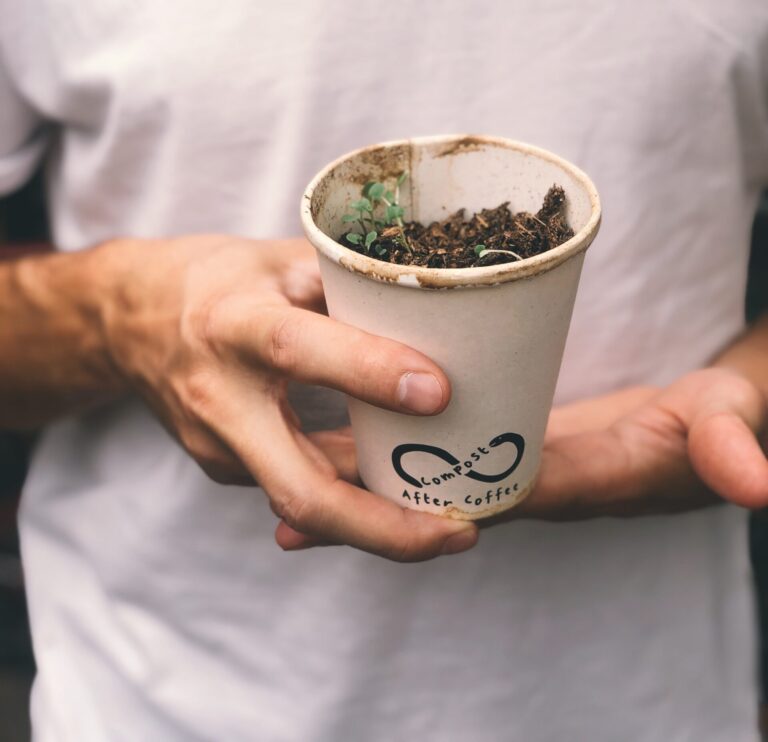 Updated: April 2023
Compost After Coffee
We are excited to announce the launch of our new fully home compostable cup and lid, which we have developed after extensive collaboration with our customers, manufacturers, and baristas. This means that coffee owners no longer need to spend time decrypting eco-marketing claims and worrying about greenwashing. Certified to both international standard with TUV OK Compost HOME and local Australian Standard AS5810, our home compostable products are designed to break down in less than 24 weeks without requiring specific treatments or facilities, unlike commercially compostable products. 
In addition, our home compostable coffee cups and lids are more affordable than other highly compostable options, with prices 17 to 25% lower. As a bonus, we have convinced our manufacturer to change their usual process, so our cups and lids are delivered wrapped in FSC certified paper instead of traditional plastic sleeves, aligning with the values you support.
We are also providing free resources to help you promote your eco-friendly efforts to your customers. Our goal is to assist your customers in understanding your choice and disposing of their cup and lid in a way that maximises its end-of-life outside of landfills.
How will your customers be affected by this change?
Not at all – our cups and lids offer the same great coffee experience as other options available. We received positive feedback during testing, with the cup holding hot long black and the lid providing an excellent sipping experience.
Clear disposal instructions are printed on both the cup and lid, including a QR code with various bin options. Coffee drinkers have all the information they need to dispose of their cup and lid responsibly and prevent waste from going to landfills.
If your customers don't have access to a FOGO green bin that accepts food packaging or are located in NSW, they can still process our cups and lids safely in their backyard or home compost along with their food waste, or via shared composting networks such as their nearby community garden or Share Waste.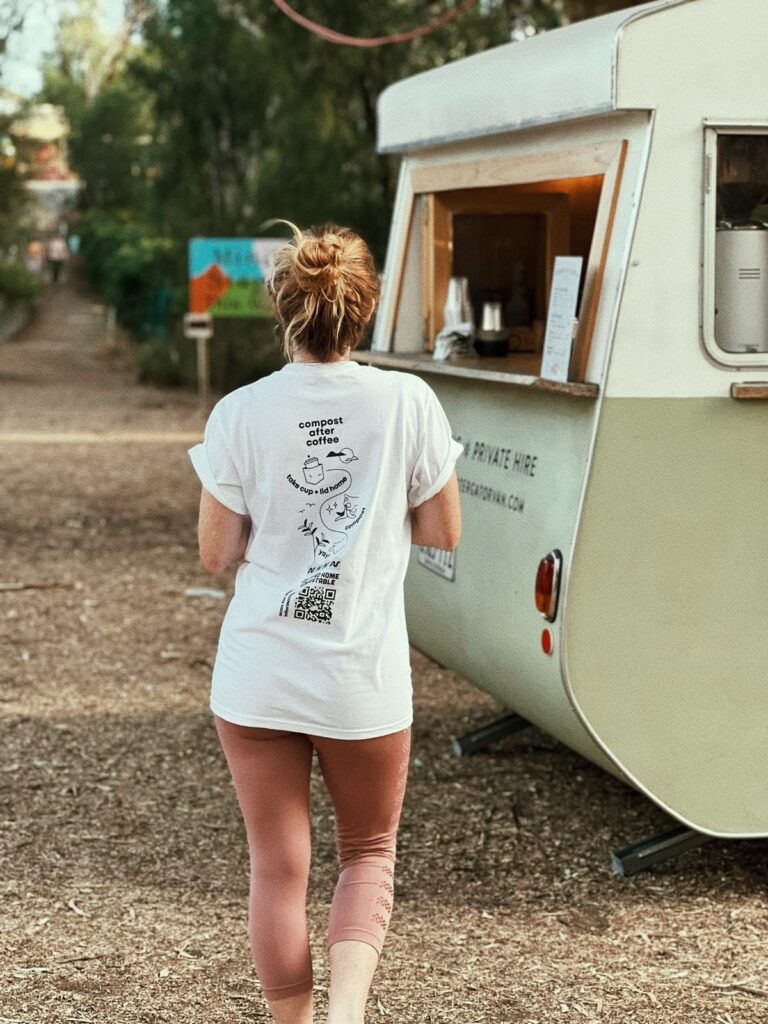 True stories!
Suppose you're on the Yorke Peninsula and stop by a nice coffee shop for a morning pick-me-up. Unfortunately, there's a 100% chance that your takeaway coffee will be served in a paper cup lined with plastic or a commercially compostable cup lined with bioplastic. Since the Yorke Peninsula doesn't yet have access to FOGO green bin collection, your cup (and lid) will inevitably end up in a landfill where it won't decompose or turn into compost.
If you live in Adelaide, Melbourne or Brisbane and grab your morning coffee on your way to work, and it's served in a commercially compostable cup. There is a slight chance you have access to green bins in your workplace but there are no green bins available on the street. If you dispose of your cup in one of the street bins, it will unfortunately behave just like plastic in landfill.
We'd love to hear about your coffee experiences, so please feel free to share your story in the comments section below!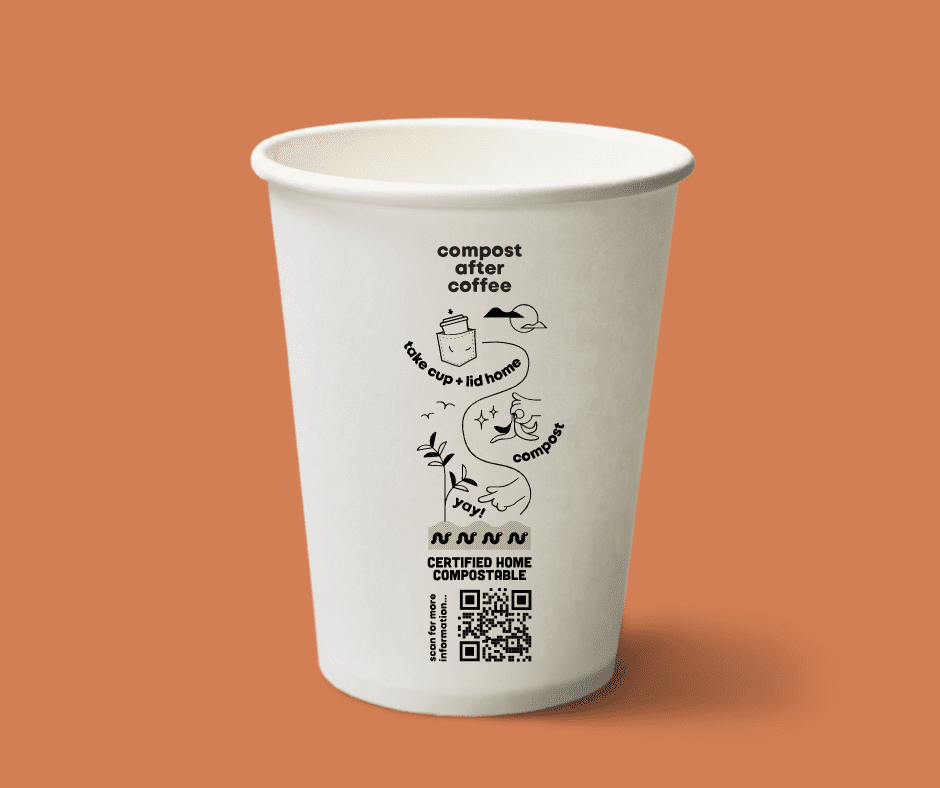 Such scenarios are prevalent throughout Australia, which is why home compostable cups and lids are a superior alternative. They enable end consumers residing in remote areas or without access to commercial composting facilities to process their cups in their backyard or home compost.
If these cups do end up in the landfill (which we do not recommend), they will decompose much quicker than commercially compostable options since they don't require any special processing or human intervention.
Our 2023 new design for our Compost After Coffee cups
Our home compostable coffee cup and lid certificates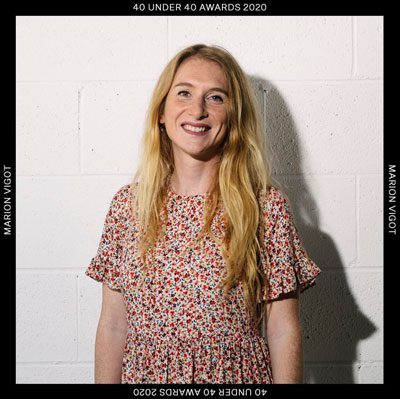 About the author:
Marion is a French entrepreneur, profoundly interested in the composting industry. Her words are her own thoughts and come from her research and learning. Although she quotes and sources the information she shares, Marion is not a scientist or a researcher and her opinions should not be understood as a scientific truth.
Through her findings and experience in the industry, she is attempting to support hospitality businesses and producers in their search of alternative choices to single-use and other types of plastic packaging. You should always do your own research to best inform yourself.